Manage seating arrangements using our flexible seating chart builder and let attendees select their seats based on the layout of your venue.
FooEvents Seating can be used in a variety of ways and is ideal for conferences, theatres, cinemas, and table seating. Simply create seating groups (rows, tables, areas etc) and set the number of chairs available. You can even link seats to product variations which makes it possible to sell seats at different prices. The row name and seat number will be displayed on the event ticket for your attendee's convenience.
Present attendees with a visual seating chart where they can select their own seats. Customize the colors of the seats to perfectly match the design of your website.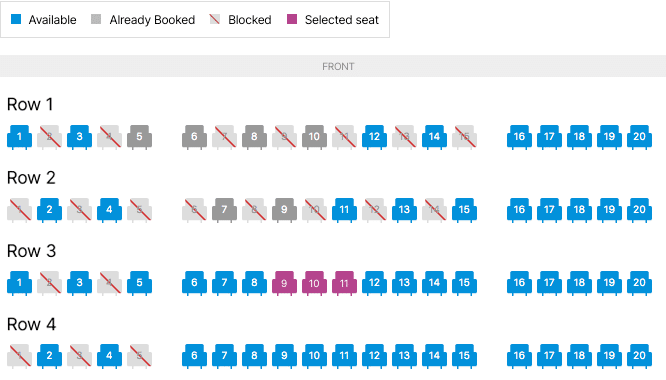 Manually control which individual seats are available and unavailable to be booked by attendees.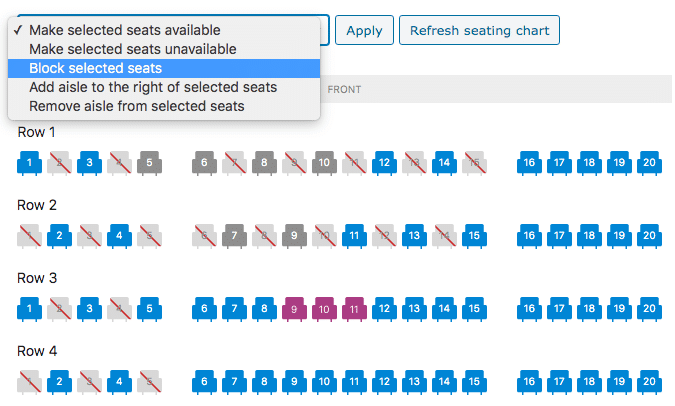 A license entitles you to 12 months of updates and support from the date of purchase. It can be used by you or a client and cannot be resold or redistributed in its original or modified state. All purchase options are billed annually but you can cancel your subscription at any time. If you're unhappy with your purchase, we offer a 7 Day Money-Back Guarantee.
Included in your Purchase
Downloadable plugin files
12 Months premium support
12 Months plugin updates
Free iOS & Android check-in apps
User-friendly documentation