Courses, Classes & Training
Sell physical and virtual courses, classes, training seminars and workshops
Use FooEvents to help maximize student enrollment and make managing class capacity and attendance a breeze. No coding, no booking fees, no commission
!
Sell access to an unlimited number of courses, classes or workshops directly from your WordPress website
We've developed a suite of tools that make it possible to offer enrollment for a variety of courses and classes. This includes bookable classes, single-day training seminars and workshops or courses that span over multiple days.
Sell access to physical, virtual or hybrid classes
FooEvents connects securely to your Zoom account and can automatically pre-register attendees for once-off or recurring Zoom meetings and webinars when they purchase access on your website. Hybrid classes (physical and virtual) are possible too!
Capture critical student information
Your attendee data is the heart of your business and FooEvents ensures that this information is stored safely and accessible to you through various purpose-built channels.
No more clumsy clipboards! Use the FooEvents Check-ins app to manage your schedule and student attendance.
Sell and print tickets at the door
FooEvents POS is a web-based point of sale plugin and can be used to sell and print tickets at the door of your venue. You can also use FooEvents POS to sell physical products such as merchandise, food and beverages.
Automatically onboard your students and provide them with course material using Mailchimp
FooEvents integrates seamlessly with Mailchimp and includes the ability to automatically add your students to a Mailchimp audience list when they enroll. Send welcome packs, automated class reminders, course material and communicate important announcements and changes.
Limited capacity? Let your students book their own seats using a visual seating chart
Customize the colors of the seats to perfectly match the design of your website and block seats according to health and safety requirements.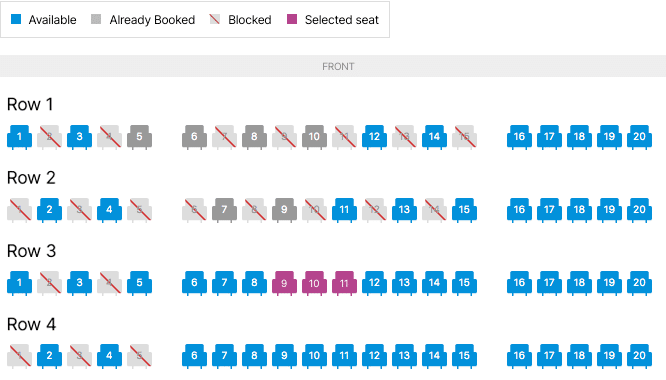 First, you will need to purchase a FooEvents license and download the FooEvents plugins. You can then install the plugins on your WordPress site, setup your event, and start selling tickets.