UPDATE: The new FooEvents Stationery Builder has replaced the attendee badge functionality and you can now design and print custom name tags, wristbands, tickets, badges and personalized labels through an intuitive drag & drop interface.
Would you like name tags, badges or personalized labels for the attendees at your event? We thought so! This is now a standard feature in FooEvents for WooCommerce which allows you to download a PDF file that contains name badges for all your attendees in a print-friendly format!
You can customize this file by choosing up to three fields that you would like to appear on the badges such as attendee names, ticket bar codes, email addresses and attendee custom fields. You can choose from predefined sizes that can be used with common Avery labels and Microsoft sticker label sizes. You also have the option of enabling the handy print cut line setting so that you can print the badges on standard paper/cardboard and cut them out with scissors or a guillotine instead.
 Examples of scenarios where you might need attendee name badges:
Getting started with FooEvents attendee badges
All you need to create and print your own FooEvents tickets is the most recent version of the FooEvents for WooCommerce plugin (1.8.1+).
Here are the steps for creating and printing badges: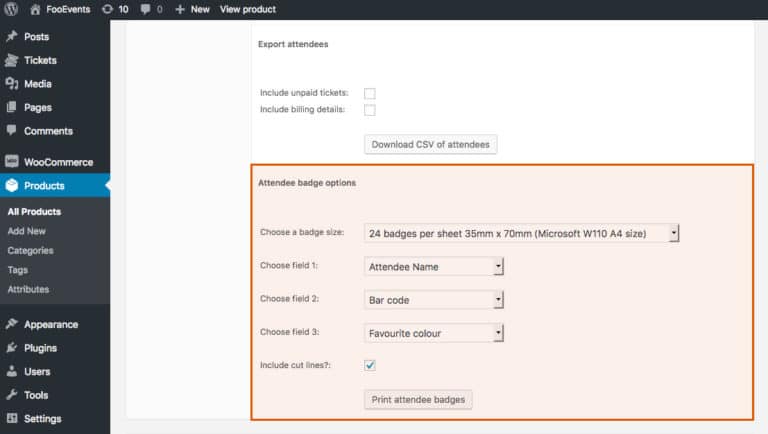 FooEvents currently supports the following badge/label sheet sizes:
6 badges per sheet 4in x 3in (Avery 5392/5393 Letter size)
10 badges per sheet 4.025in x 2in (Avery 5163/8163 Letter size)
12 badges per sheet 63.5mm x 72mm (Microsoft W233 A4 size)
16 badges per sheet 99mm x 33.9mm (Microsoft W121 A4 size)
24 badges per sheet 35mm x 70mm (Microsoft W110 A4 size)
30 badges per sheet 2.625in x 1in (Avery 5160/8160 Letter size)
39 badges per sheet 66mm x 20.60mm (Microsoft W239 A4 size)
45 badges per sheet 38.5mm x 29.9mm (Microsoft W115 A4 size)
Let us know if you have any attendee badge suggestions or badge/label sheet size requests as we'd love to hear from you!