Earlier this year, we added a ticket import tool to the FooEvents for WooCommerce plugin. This feature is particularly useful if you need to transfer a large number of tickets from an existing system or spreadsheet when planning an event. With the FooEvents ticket importer, you can import tickets in bulk using a CSV (comma-separated values) file. In this guide, we'll provide you with step-by-step instructions on how to import event tickets using FooEvents.
Step 1: Prepare your CSV file
Firstly, you'll need to prepare your CSV file to include all the data needed to import your attendee tickets. The CSV should contain the event ID, attendee's first name, last name, and email address, as well as any additional data such as the variation ID (if needed), custom attendee fields and booking information. It is essential that the CSV is correctly formatted and contains all the necessary information. For more in-depth information on how to prepare your CSV file, please refer to this help guide.
Step 2: Upload your CSV file
Once your CSV has been properly formatted, it is time to upload the CSV file using the ticket importer. To do so, you will first need to install the FooEvents for WooCommerce plugin and create an event.
You can navigate to FooEvents > Import tickets and upload the CSV file and press the Continue button to proceed.
Step 3: Map ticket fields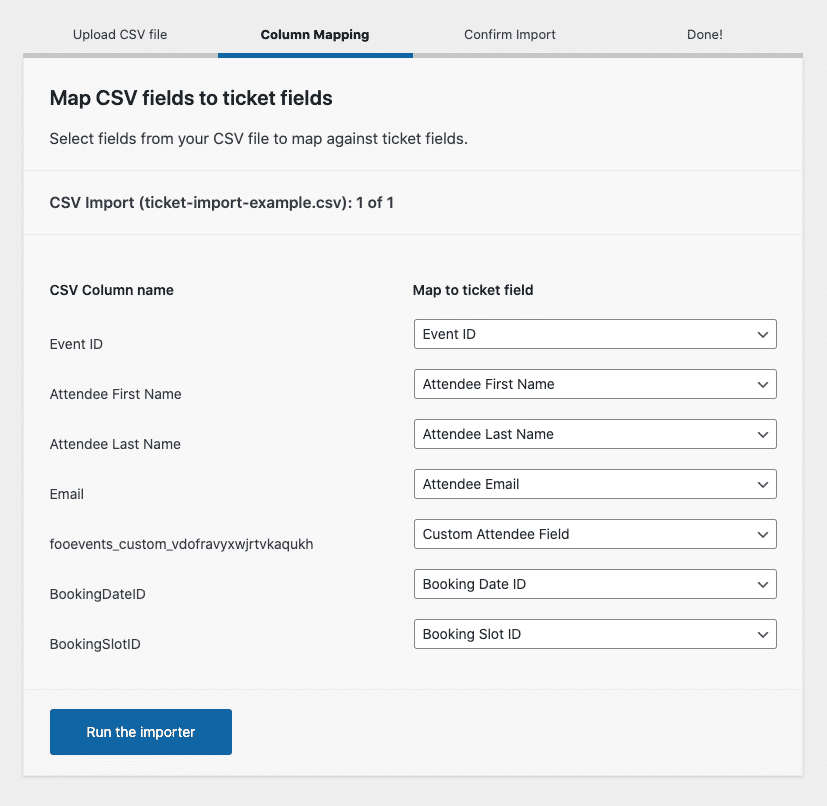 After uploading your CSV file, you'll need to map the ticket fields to the corresponding fields in FooEvents and press the Run the Importer button.
Step 4: Preview and confirm
The importer will run various validation checks to ensure that your data is correctly formatted. If you notice any errors or discrepancies, simply modify your CSV and re-upload the CSV. Once you have previewed your imported tickets and everything looks correct, press the Confirm Import button.
Step 5: Import tickets
The FooEvents Ticket Importer processes tickets in batches of 100 tickets in order to ensure reliable results. If your CSV file includes more than 100 entries, once you have completed importing the first batch, please repeat the process until all tickets have been imported.
And that's it! Your tickets are now imported and can be managed in the same way as others tickets generated from your website using FooEvents.
Here are a few benefits of importing legacy tickets using this method:
If you have any questions or need help with the import process, don't hesitate to reach out to us.