The latest FooEvents for WooCommerce plugin update (Version 1.11) includes significant changes which are aimed at making FooEvents easier to navigate and more insightful before, during and after your event.
Introducing FooEvents Reports
Selling tickets and checking-in attendees is an integral part of any event and something FooEvents already does extremely well. That said, we have always felt that the ability to analyze ticket sales and attendee check-ins could be better. Knowing the number of tickets that have been sold and which attendees have been checked-in can help event organizers make critical decisions that contribute to the success of both current and future events. We designed FooEvents Reports with this in mind as it will help event organizers get a better understanding of their ticket sales and audience.
FooEvents Reports is built into the FooEvents for WooCommerce plugin and includes options to view reports, edit events and view tickets for a specific event. It also displays the number of tickets sold, available tickets and total revenue, giving you a good snapshot of event performance.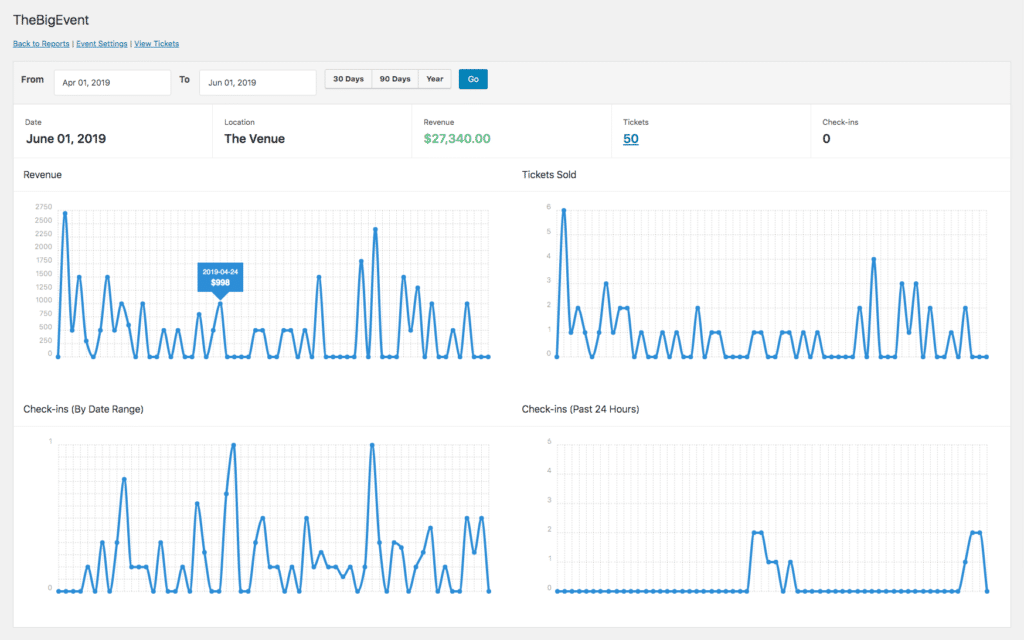 View ticket sales and attendee check-ins based on customizable date ranges.
You can now also view tickets for a specific event.
Please note: Attendee check-in times will only be collected and stored moving forward. As such, the graphs will only start to display attendee check-in data from the time of updating to FooEvents for WooCommerce version 1.11.
Revamped Navigation
Since FooEvents essentially extends WooCommerce functionality, we have always taken the approach that it's better to embed navigational items within WooCommerce structures. However, since its inception, FooEvents has turned into a product suite and currently offers 7 different extensions, 2 free event check-ins apps and over 24 free premium ticket themes. With this in mind, we have decided to group the various tools and settings into a new sidebar menu which not only makes FooEvents more intuitive for new customers, but commonly used functionality is now also quicker to get to; saving time and unnecessary frustration.
New Settings Tabs
The FooEvents specific settings have been moved from the WooCommerce settings to their own dedicated settings page which are divided into tabs in order to make the settings easier to find. Each setting now has an accompanying tooltip which can be moused over to reveal a description of the setting so that it's more self-explanatory. In addition, we've implemented file uploader and color picker tools which make it more convenient to select custom colors and graphics.
All these changes are geared towards making FooEvents easier to use and more insightful before, during and after your event. They shouldn't have an impact on any of your existing events and they are intended to improve and add value to your FooEvents experience going forward.
As always, if you have any suggestions or feedback, please get in touch!