Planning a grand reopening? We've started to see a steady increase in the number of physical events taking place. While this is great to see and (hopefully) a sign of things to come, most venues are still required to follow stringent guidelines intended to reduce the spread of COVID-19. In this article, we run through various FooEvents features and tools that will help ensure that your event, venue or service offers safe access for attendees, staff and volunteers.
Limit capacity through bookable time slots
You may be required to limit the number of people on your premises at any given time. This can be managed using the FooEvents Booking plugin which makes it possible to sell access to an event, venue or service through bookable time slots. Each time slot can be set to limited capacity which will ensure that the maximum number of people allowed at the venue within a set time period is not exceeded.
Attendee access can then be managed by using the FooEvents Check-ins apps which will also provide you with an accurate headcount for each slot.
Offer contactless entry
Using the FooEvents Check-ins app or FooEvents Express Check-ins plugin with a barcode or QR code scanner, you can offer safe, contactless entry that allows attendees to have their tickets scanned without any close-up contact with your staff or volunteers.
For more details on using barcode and QR code scanners with FooEvents, read the 'How to scan ticket barcodes and QR codes using FooEvents and WooCommerce' blog post.
Pre-screen attendees using Custom Attendee Fields
The FooEvents Custom Attendee Fields plugin can be used to create pre-screening questions that must be completed when purchasing a ticket. The responses to these questions will be saved to the attendee's ticket and can be viewed within the WordPress admin area and the FooEvents Check-ins app. They are also included in the attendee CSV export.
Take a look at our Waterpark Demo to see this functionality in action. The screening questions are presented at checkout and can be set as optional or required fields. If you would like to ensure that only attendees that have successfully completed the screening questions receive a ticket, you can include the custom fields in the WooCommerce new order email (the setting to include custom fields in the email is found under Event Details) and review their responses before completing the order and generating the ticket. Alternatively, you can automate this by rather creating the questions as checkbox fields that need to be checked in order to proceed to payment (e.g "[X] I confirm that I have not had a cough in the past 14 days").
FooEvents Custom Attendee Fields supports a variety of input types including text fields, drop-down lists, checkboxes, radio buttons, dates, times, email addresses, URLs and numbers.
Track attendee access
In some instances, you might be required to track when an attendee arrives and when they leave the venue. The latest release of the FooEvents for WooCommerce plugin (1.12.31) adds the ability track both check-in and check-out times via the free FooEvents Check-ins app, FooEvents Express Check-ins extension and the ticket screen in the WordPress admin area.
The attendees access history can then be viewed on the ticket screen and is included in the attendee CSV export. The FooEvents Reports have also been updated to reflect check-outs, making it possible to view the flow of access through your event in real time.
Customize your seating plans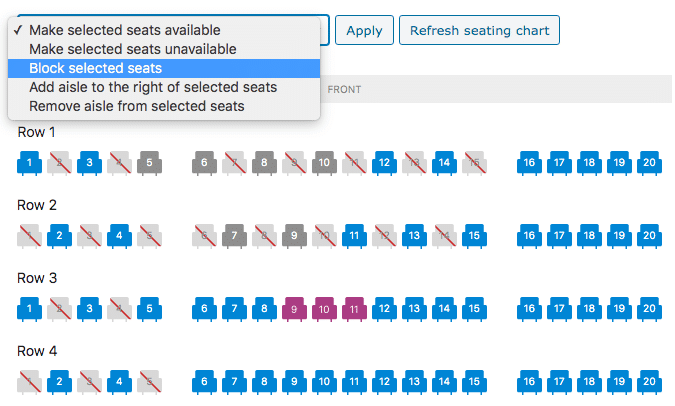 The FooEvents Seating extension includes the ability to block off seats and add aisles. Using these two options, you can design a seating layout that reflects your social distancing measures and gives your attendees peace of mind when booking their seats.
Allow attendees to participate virtually
Using our built-in Zoom virtual event functionality, you can offer a virtual component to your physical event. Allowing attendees to participate in-person and virtually will ensure that those who are not able to attend the physical event due to the risk of travel or health concerns, are still able to do so virtually. This will also serve as a solid backup solution should conditions change and the physical event is no longer able to proceed.
If you are already using FooEvents and have found your own unique solutions to managing events during the pandemic, we would love to hear about it so please get in touch.